Wedging open fire doors poses a huge risk in the event of a fire as it allows fire and smoke to spread rapidly throughout the building. To avoid a heavy fine or a fire at your residence, here are a few safety fails to which other premises have fallen victim!
This picture highlights a common hazard frequently identified by fire inspectors, an extinguisher being used to hold open a door, also known as the "British standard wedge"
Apart from needing a tidy up, obstructing fire exits can seriously hamper evacuation and endanger lives. This care home was fined £70,000 for breaching fire safety laws last year – the most serious of these being blocked fire escapes.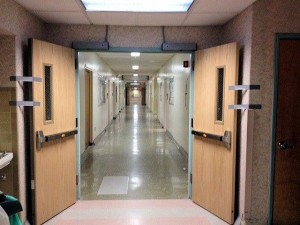 It's often desirable to have fire doors kept open, for example when the weather is warm but there are better and safer ways than this. As with doors that are wedged open, these fire doors will be unable to do their job if and when a fire does occur.
Making escape routes clear can save precious time when evacuating a building. The confusion caused by signage like this can cause unnecessary panic and delays when residents are trying to escape the building.
Blocking fire exits goes both ways, it is just as unsafe to block them from the outside as it is in. You don't want to give occupants a nasty surprise in an evacuation.
These were some pretty extreme examples of common hazards but it's easy to forget how our everyday routines and habits can affect fire safety. There are ways to keep compliant with regulations without changing your daily routines or causing yourself inconvenience.
For Fire Door Safety Week 2020 we spoke to Darren Young from 1st Aid Fire, who shared his knowledge on the importance of fire doors and how to maintain them.
Older people are often more vulnerable when it comes to accidents and emergencies which places huge importance on fire safety in care homes. Fire doors are essential for fire safety, but in the daily lives of care home residents, they can be problematic.
Fire doors help to prevent the spread of smoke and fire throughout a building, potentially saving lives. So, why do students wedge them open?